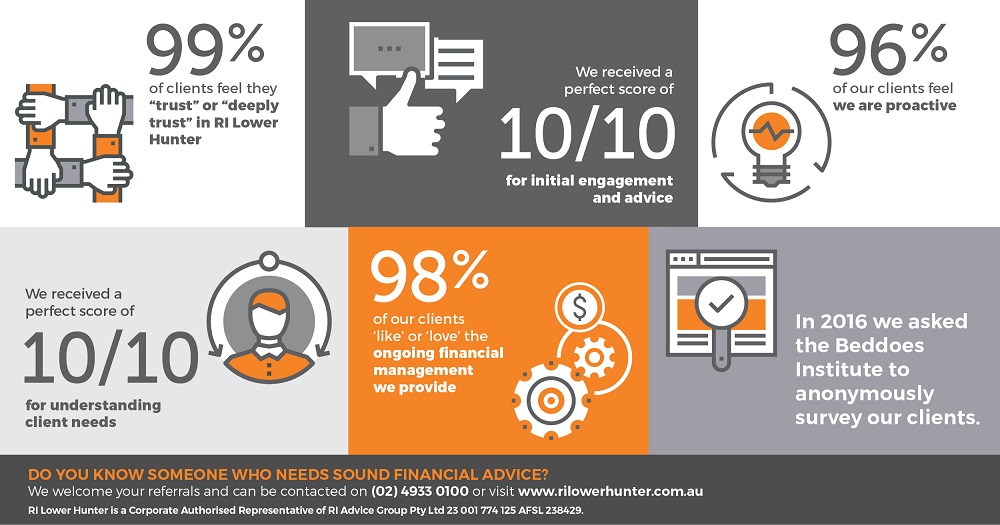 We constantly review our service offering and check in to make sure our clients are happy. Below is a selection of what some of our clients have to say:
We'd never had any direction with our money so we didn't know what we could afford and when we could retire. Now we have clear direction and a better understanding, it's all good.
Frank and Jan
They listen. You could talk to them. They understood what I wanted. I felt really comfortable, and I just thought: "Yes, these people will know what I'm talking about."
Richard and Sue
They've got us in the right direction and I just think their honesty to tell us up front how much we've got, how it's going to last, it's brilliant.
Bill and Shirley
From the very start with RI 17 years ago we have been 100% satisfied. What we were told could happen did happen. The portfolio designed for us provided us with an income that has enabled us to enjoy a worry-free retirement and financial security. Other aspects of our dealings with RI have given us peace of mind regarding our estate. Would we recommend RI to other people? YES
Ron and Glad
Finance, investments, stock market, wills, retirement planning are all very confusing at times so it's great to know someone is there to make it all work for you. Thank you so much.
Sue
With Gil and Chris's help I have been able to purchase my business outright and set up my children for life.
Bruce and Jeanette
Gil and his team are always there to advise us and help us to manage our finances so we can enjoy our retirement. We trust their advice and have called on them for financial and lifestyle guidance.
Neil
On retirement I needed advice and Gil Gordon of RI advice was recommended to us. We would not be where we are without RI Advice and we feel very comfortable with them all.
Ron and Myra
They treat you like one of the family. Nothing is a problem for them and I am achieving the results they planned for me and my wife.
Ray and Joy